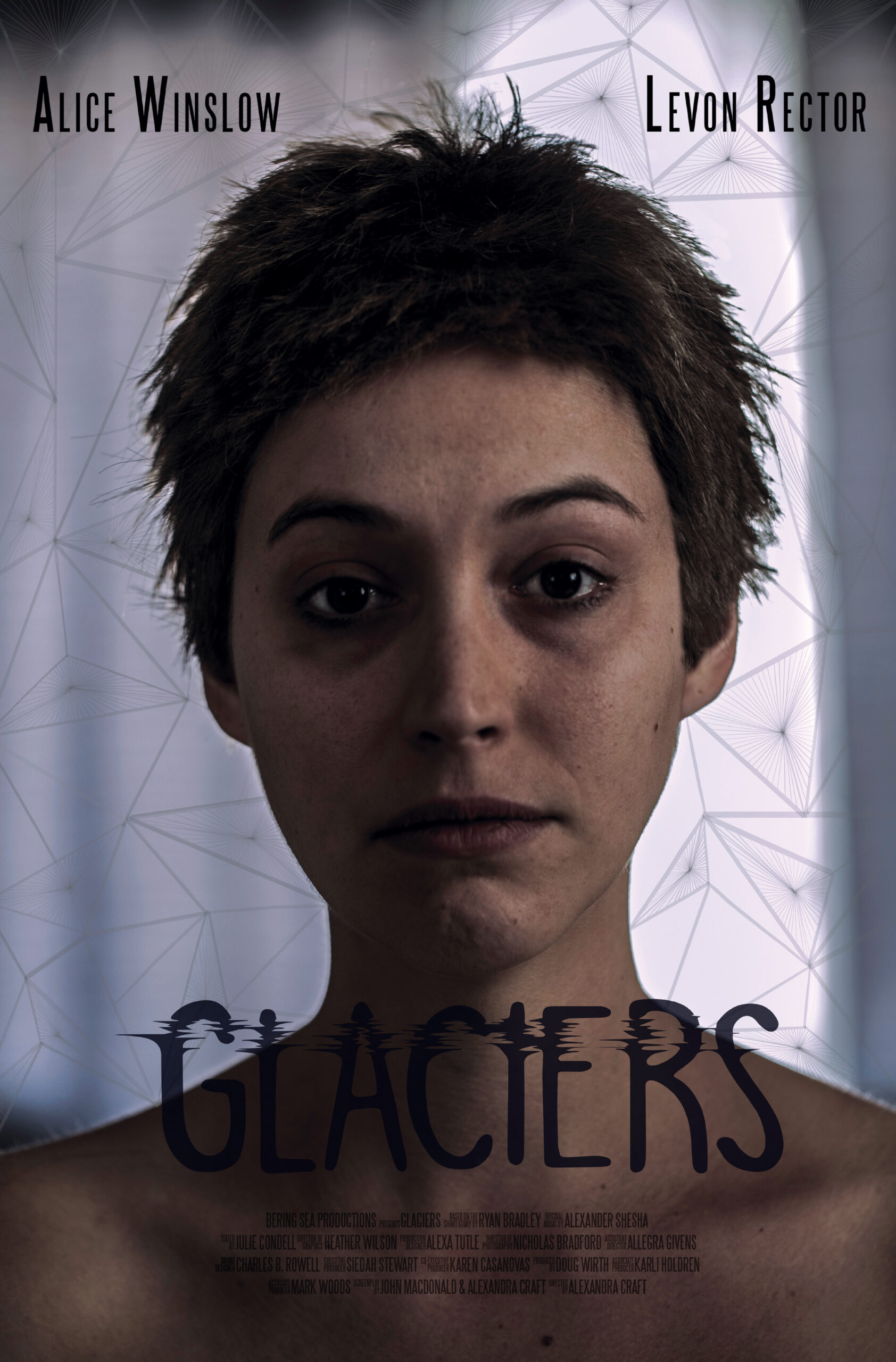 The Synopsis –
Glaciers is the story of a young married couple who have recently survived ovarian cancer. We follow the couple as they struggle to define their relationship after such a life-altering event.
Although they have managed to come out on the other side, it has not been unscathed. They are not the same people they were before the diagnosis and everything feels different now.
Michael always thought that he would be father, but now even if they could have children of their own he is unsure whether he would be able to support them with the crushing weight of never ending medical bills.
Gretchen feels struggles with her new label as a "survivor", challenged to grasp her lost identity and to connect with a body she no longer identifies as her own.
Will they be able to navigate their new reality as a united front, or, like the once prominent glaciers, will their bond slowly dissolve in the light of their new environment?
Glaciers was one of the first stories I wrote for what became the collection, Nothing but the Dead and Dying. Even now, more than eight years after writing that first draft, it remains one of my favorite things I've written. The story truly represents the collection and the themes I am most concerned with in my writing, primarily how people manage to deal with and (sometimes) overcome all the struggles that life brings. Having this story brought to life in a new medium is exciting, to see the characters whose pain feels very real to me come to life will certainly be an unforgettable experience for me and I hope all who see the film as well.
Director
Alexandra Craft
Story By
Ryan W. Bradley
Producers
Siedah Stewart
Doug Wirth
Executive Producers
Karen Casanovas
Joanne Schust
Paula Harrison
Dirk Craft
Associate Producers
Mark Woods
red bradley
Howard Nugent
Screenplay By
Alexandra Craft
John F. MacDonald
Cinematographer
Nicholas Bradford
Unit Production Manager
Assistant Director
Set Decorator
1st Assistant Camera
1st Assistant Camera
Set Photographer
Gaffer
Key Grip
Grip
Production Sound
Hair and Makeup Artist
Digital Imaging Technician
Script Supervisor
Editor
Assistant Editors
Colorist
Sound Designer
Composer
Graphic Designer
Copy Editor
Karli Holdren
Alegra Givens
Alexa Tuttle
Farrah Su
Riani Singgih
John F. MacDonald
Eric Vera
Christian Cowell
Strack Azar
Matt Garcia
Emily Jacobson
Anthony Deng
Sarah Levin
Julie Condell
Nicholas Bradford
Charles B. Rowell II
Nicholas Bradford
Charles B. Rowell II
Alexander Shesha
Heather Wilson
Allison Brock
Erika Barnes
Richard Person
Lillian Person
Aimee Chauvot
Molly Just
Sheena MacSween
Chris Oxley
Donald Macsween
Mindy Jurik
Kathy Onstead
Karen Casanovas
Red Bradley
Anthony Deng
Marcy A Martin
Maria Victoria Cortina
Sharon Hall
Aunna Wilson
Lauren Bachman
Daniel Stewart
Rosario DiBella
Frank DiBella
David Rodwin
Margery Wagner
Marla Berg
Matthew Person
Katy Brown
Steven Chayer
Shelley Hughes
Jenney Yousey
Michelle Snow
Ross Wilson
Howard Nugent
Dirk Craft II
Susan Hupka
Chrisina Veltkamp
Matt Kosht
Judy Eledge
Mead Treadwell
Penny Beiler
Colleen Starring
Kristi Barber
Tristan James Walsh
Jo Marjoribanks
Michael Zoske
Heather Wilson
Cory Baker
Bill McClain
Louise McClain
Amber Stephens
Mark Stephens
Tom Flookes
Dawn Flookes
Vivian Huai
Christopher Schafer
Debra Wilson
Amber Mitchell
Victoria Melekian
Kim McClain
Irene Meadows
Michelle LeKites
David Abrams
André Koehrer
Moira Smith
Chadd Tripp
Emily Tyson
Colette Wilson
Valerie Baty
Dorothy Ghylin-Bennett
Alex Bennett
Chiloh Baty
John Aronno
Heather Aronno
Dirk Craft
Paula Harrison
Allison Brock
John MacDonald
Matt Greely
Mark Woods
Lorna MacSween